Confession: My family asked me to stop trying to make pickles because they always turn out mushy. I needed this post. I think you will find the tips for crunchy pickles offered here, along with the lacto-fermentation process, will result in the crunchiest pickles you've ever made.
It's cucumber season and one of the easiest ways to preserve the bounty is to make pickles.  Fermented pickles are easier and more nutritious than vinegar pickles which makes them our pickle of choice.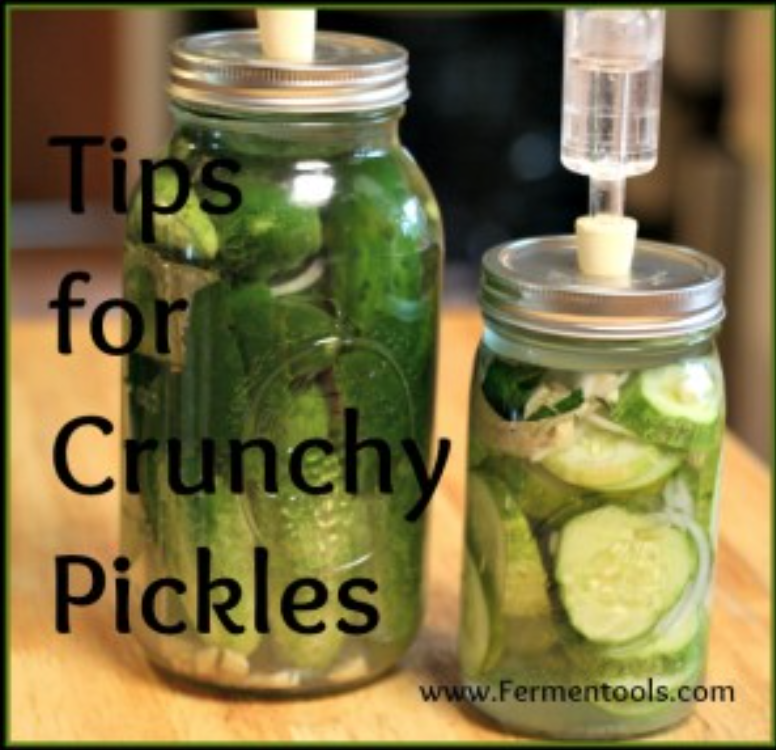 But a pickle just isn't a pickle if it's not crunchy. So, how do we get fermented crunchy pickles?
How to Make Crunchy Pickles: 5 Amazing Tips
1. Start with cold cucumbers. I know when you get your cucumbers in the house, you're ready to deal with them the right way. But you'll get a better pickle if you put the cucumbers in the refrigerator overnight. If that is just not possible, soak the cucumbers in ice water for at least three hours to make sure they are chilled all the way through.
2. Use small whole cucumbers. The smaller the cucumber, the bigger the crunch. If you have some larger cucumbers you want to use, consider slicing them or making pickle spears.
3. Poke a hole in larger cucumbers. Ok, sometimes we really just want to make large dill pickles. My kids call these movie pickles. But the longer a cucumber is on the vine the thicker its skin gets and the harder it is to ferment more evenly.
4. Cut the blossom end off of each cucumber. The blossom end is the end that is NOT attached to the vine. The blossom end has an enzyme in it that will make the pickles mushy.
5. Use tannins. Tannins will help inhibit the enzyme that causes a vegetable to get mushy. You can find tannin compounds in grape leaves, oak leaves, horseradish leaves and you can put a small bag of black tea in the jar. I've only used grape leaves.
So next time you want to make lacto-fermented pickles try a few of these tips to get that great pickle crunch.
*****************************************
Now that you've got all the tips, try out a few of the delicious recipes below:
********************************************
Angi Schneider is a minister's wife and homeschooling mom. She is passionate about growing food for her family and living a simple life. She blogs their homesteading and homeschooling adventures at SchneiderPeeps.com and is the author of The Gardening Notebook which she wrote to help other gardeners remember all the great information they are learning.